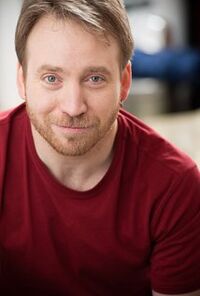 Trevor Devall is a Canadian voice actor,actor and podcaster who is known for voicing King of Sling in the Canadian TV series, SlugTerra, along with a few other characters. He's also known for voicing Rocket Raccoon on Marvel's Guardians of the Galaxy, Pyro on X-Men: Evolution and Dukey in Johnny Test.
Personal Life
Trevor Devall was born on Nov 10, 1972 in Edmonton, Alberta, Canada. He is one of the various voice actors who works for Ocean Group, in Vancouver, British Columbia, Canada. In 2013, Devall relocated from Vancouver to Los Angeles, California.
Voices
Slugterra Roles
Other Notable Roles
Class of the Titans - Apollo, Hades, King Minos
Dragon Booster - Moordryd Paynn
Guardians of the Galaxy - Rocket Raccoon, Black Bolt, Fandral
Johnny Test - Dukey
Kid vs. Kat - Burt Burtonburger
Lego Star Wars: Droid Tales - Emperor Sheev Palpatine, Admiral Ackbar, Jar Jar Binks, Jango Fett, Tion Medon, Boba Fett, Nien Nunb
Lego Star Wars: The Yoda Chronicles - Emperor Sheev Palpatine, Ackbar, Bib Fortuna, Tion Medon, Salacious Crumb, Jar Jar Binks, Admiral Piett
Max Steel - Jim McGrath, Metal Elementor, Mega Elementor
X-Men: Evolution - St. John Allerdyce/Pyro
Community content is available under
CC-BY-SA
unless otherwise noted.