SlugTerra is a massive underground world inhabited by Slugs and many other mysterious creatures, and is the main setting for the series.
About SlugTerra
SlugTerra ("Slug" - "Earth") is a massive underground world located beneath The Surface and above The Deep Caverns, and is the native home of the Slugs.
Important Notice: Before the events of Slugterra: Ghoul from Beyond and the discovery of The Eastern Caverns, the term "SlugTerra" was previously used as another way to describe The 99 Caverns, however since then the term has been given a much broader meaning and describes any land that consists of slugs.
Inhabitants
SlugTerra is largely populated with Humans and Slugs, however, it's also home to a number of other species, both humanoid and otherwise.
Animals
Humanoids
Creatures
Lava Crawlers

Crystal Spiders

Ghosts

Bush Bugs

Lobsters

Moths

Frog

Rock Creatures

Earthworms
Automatons
Flora
In the underground world of SlugTerra there are many types of plants to be found.
There's:
Mushrooms: Which are larger than normal and can be found all over SlugTerra.
Moss: A plant that can be extracted to make a drink and can be found in Xanadu Basin.
Coral: A rough aquatic plant found at the bottom of the ocean floor of caverns like Undertow Cavern and is a great place for AquaBeeks to hide.
Grasping Seaweed: A seaweed that wraps around things and found at the bottom of the ocean floor of caverns like Undertow Cavern and Cavern Seas.
Vinedrill Blossoms: A flower that grows on Vinedrill vines and can be found mainly in Serenity Cavern.
Benign: A mushroom that grows in Serenity Cavern. As its name suggests, this mushroom is gentle and kind in nature, but with the cavern losing its native slugs and becoming toxic, it will deploy spikes when someone sits on it.
Peach Blossom Trees: Trees that sprout pinkish flowers called Peach Blossoms and are found in Peach Blossom Spring Cavern.
Grumshroom: Appears in the game Battle For Slugterra.
Spitting Shroom: Appears in the game Battle For Slugterra.
Occupations
Main article: Jobs
Slugslinging: Technically not a job, but it's a skill with much to offer in other professions and opportunity for others as well.
Security Slinging: Often disparagingly referred to as "mall cops", Security Slingers are a close-knit group who uphold justice in malls across SlugTerra and take their jobs very seriously.
Slingersmithing / Blastersmithing: Design, build and repair blasters.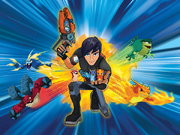 List of SlugTerras
The 99 Caverns - These were the series' original setting(s) and the home of Pronto, Kord and Trixie, and are/were protected by Eli & his family
The Eastern Caverns - These are the series' current setting(s) and are the home of Junjie and were/are protected by Junjie & his family
Other Locations
The Deep Caverns - technically not apart of SlugTerra but still part of the underground, this is the home of the Darkbane.
Gallery