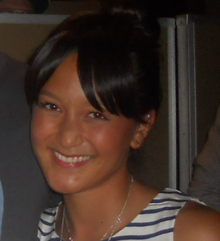 Shannon Chan-Kent is a Canadian voice actress who's known for voicing Beatrice "Trixie" Sting and a couple other characters in Slugterra.
Biography
She is perhaps best known for her role as the singing voice of Pinkie Pie in My Little Pony: Friendship Is Magic. She also provides the voice of Silver Spoon on My Little Pony, is credited as the voice of Chief in Pucca and Misa Amane in the English dubs of the Death Note anime and its movies, and portrays Courtney's best friend Janet in Nickelodeon musical film Spectacular.
Voices
Slugterra Roles
Other Notable Roles
Being Ian - Grace Lum, Student
My Little Pony - Silver Spoon
My Little Pony: Friendship Is Magic - Pinkie Pie
Open Season: Scared Silly - Rosie / Marcia
Pucca - Chief
The Deep - Jess Gorman
Community content is available under
CC-BY-SA
unless otherwise noted.