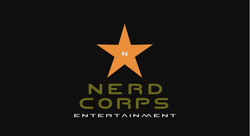 Nerd Corps Entertainment and now currently known as DHX Studios Vancouver [1] was a Canadian animation studio, based in Vancouver, British Columbia, founded in 2002 and known for producing the Slugterra television series.
About
Nerd Corps Entertainment was founded in 2000 by Asaph Fipke and Chuck Johnson[2]. The company was working on computer animation television series, and was popular for a variety of series such as Slugterra, League of Super Evil, Storm Hawks and Rated A for Awesome. However it was bought by DHX Media for $57 million dollars and the deal was effective on December 24, 2014[3]. And since then, Nerd Corps Entertainment has become "DHX Studios Vancouver" and all its properties now belong to the DHX Media brand.
Productions
Dragon Booster (2004-2006) (co-produced with The Story Hat Alliance Atlantis, DHX Media and Jetix Animation Concepts)
Storm Hawks (2007-2009)
League of Super Evil (2009-2011)
Hot Wheels Battle Force 5 (2009-2011) (co-produced with Mattel, Inc., Nelvana Limited, Warner Bros. Television and Nelvana Limited)
Rated A for Awesome (2011-2012)
SlugTerra (2012-) (co-produced with DHX Media)
Max Steel (2013-2016) (co-produced with Mattel Playground Productions, FremantleMedia Enterprises, Disney XD and Netflix)
Endangered Species (2015) (co-produced with DHX Media)
Kate & Mim-Mim (2014-) (co-produced with FremantleMedia Kids, Family and DHX Media)
The Deep (2015-) (co-produced with A Stark Production, Technicolor and DHX Media)
About Slugterra
Nerd Corps Entertainment began production on the series, Slugterra, in early 2012 and after the successful first season, they would go onto produce a second season through 2013 & 2014 and eventually commission a third one in late 2014; however at around the same time, DHX Media bought the company and they would go onto co-produce the season.
Along with producing 2 seasons and co-producing a third, Nerd Corps is also known for producing 3 web games and a mobile app before being bought by DHX Media.
References
Community content is available under
CC-BY-SA
unless otherwise noted.