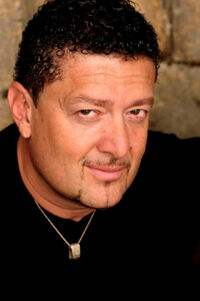 Michael Dobson is a British-born Canadian voice actor who's known for voicing many characters in the Canadian TV series, Slugterra, including Millard Milford, Malvolio Drake and Gerhard Stocker.
Personal Life
Michael Richard Dobson (born August 12, 1966) is one of the three Dobson brothers (himself, Brian, and Paul), all of whom have made themselves known prominently in the voice acting community. He was born in Kingston upon Thames, London, England, UK. He currently resides in Vancouver, British Columbia, Canada since he was 16. Dobson tends to be cast into the role of well-rounded, emotionally driven characters. He is currently owner of his own voice recording studio, Makena Sound Ltd. in South Surrey, British Columbia.
Voices
Slugterra Roles
Other Notable Roles
Class of the Titans - Scamander
Edgar and Ellen - Judge, Curly Brown Haired Guy, Arnold Thistle, Blake Glide
Hot Wheels Battle Force 5 - Zemerik, A.J. Dalton, Kytren, Boralis, Cryoinfernus
Iron Man: Armored Adventures - Ghost
Lego Ninjago: Masters of Spinjitzu - Pythor P. Chumsworth, Wyplash, Skalidor, Kruncha for Season 2, Samurai X/ Nya (Can of Worms episode only)
Max Steel - Forge Ferrus, Makino, Vin, Dr. Thornhill, Mr. Jones, Martin, Cobrasauras
Trivia
Michael's brother, Brian also voice many characters in the series.
Community content is available under
CC-BY-SA
unless otherwise noted.