"You dare fire at me!"
―Lian as the Dai-Fu
Lian  (also known as the Dai Fu which is Pronounced die - fu) is a former villain and tritoganist character who debuted in the Slugterra: Eastern Caverns movie. She is a Slug Fu Master and was one of The Emperor's Underlords and Junjie's Former Slug Fu teacher.
Biography
As the Dai-Fu
The Dai-Fu is apparently the most dangerous underlord working for The Emperor (now presumably deceased). But before that, she was Slug Fu Master Lian, and she was Junjie's teacher. Not much is known still known about her past, except for the fact that she is a type of Dark Slinger, who was made using a Cryptogrif, magic and a whole lot of Slug Energy. And after the Emperor's defeat, she refuses to be helped (cured) by the Shane Gang and vanishes from the scene.
As Lian
She is apparently a kind hearted slinger who is proud of Junjie and his iron will to protect the The Eastern Caverns.
Appearances
Affiliations
Allies
Enemies
Neutral
Trivia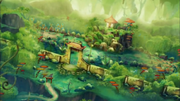 Gallery
As Lady Dai-Fu
As Master Lian
Community content is available under
CC-BY-SA
unless otherwise noted.