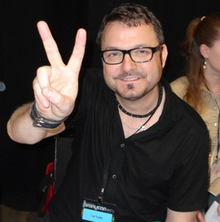 Lee Tockar is a Canadian voice actor, who's known for voicing Pronto and several other characters in Slugterra and other shows like League of Super Evil as Doctor Frogg.
Personal Life
Lee William Tockar was born in Kelowna, British Columbia on February 11, 1969.
Voices
Slugterra Roles
Other Notable Roles
Dragon Booster - Parmon Sean, Khatah
Ed, Edd n Eddy - Victor the Goat
Edgar and Ellen - Mr. Poshi, Bob the Intern
Iron Man: Armored Adventures - MODOK
Johnny Test - Eugene "Bling-Bling Boy" Hamilton, General, Albert, Montague
Kid vs. Kat - Captain Blasteroid
League of Super Evil - Doktor Frogg, Glory Guy, Seafoam Green, Guy, Snugglebum, Jules LeSimian, Mrs. Johnson
Lego Star Wars: Droid Tales - Darth Maul, Vizago, Nute Gunray, Amda Wabo
Martin Mystery - Patio Brian
Ninjago: Masters of Spinjitzu - Cyrus Borg
Pac-Man and the Ghostly Adventures - Inky, Security Guard, Fuzbitz, Cyclops Ghosts, Ogle, The Dog, Count Pacula
Packages from Planet X - Thriki
Ratchet & Clank Movie - Mr. Micron
Storm Hawks - Wren
Community content is available under
CC-BY-SA
unless otherwise noted.