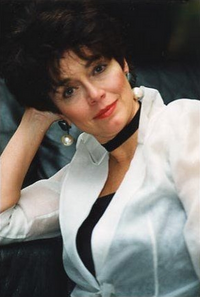 Kathleen Barr is a Canadian voice actress who's known for voicing Shanai and Lian in the Canadian TV series, Slugterra, along with a few other minor female characters.
Personal Life
Kathleen Barr was born on Apr 6, 1967 in Toronto, Ontario, Canada. She has been a voice artist since 1987.
Voices
Slugterra Roles
Other Notable Roles
Class of the Titans – Athena, The Horae
Dragon Booster – Lance Penn, Marianis, Dragon City News Reporter, Chute
Ed, Edd, n Eddy – Kevin and Marie Kanker
Edgar & Ellen – Edgar, Natalie Nickerson
Hot Wheels Battle Force 5 – Agura Ibaden, Hatch, Kyburi, Zen, Korosivash
Johnny Test – Lila Test, Janet Nelson Jr., Blast Ketchup, General's Technician, Tyler, Surfer Dudette, Beatrice
Kid vs. Kat - Millie Burtonburger, Kat, Lorne
Lego Ninjago: Masters of Spinjitzu - Misako, Brad, Gene
Max Steel - Katherine Ryan
ReBoot – Dot Matrix, Princess Bula
Storm Hawks – Lynn, Garrett (Pork Chop)
The Deep - Kaiko Nekton
Community content is available under
CC-BY-SA
unless otherwise noted.