Very little is known about the Hexlet Slug. It is a small orange slug with blue eyes, one tooth, and two antenna. It's first appearance was on the official SlugTerra website in Slugisode four, "Our Friend The Slug". It later appeared in "Club Slug" as one of the slugs who was deflated following Sergeant Slug's training methods and in "Back to Blakk" one was seen in the cage being bought by the young Dr. Blakk. The Hexlet has appeared in multiple Slugisodes since.
A famous Hexlet has not yet been seen in the show.
A ghouled version of Hexlet has not yet been seen in the show, but the official name for one is "Vexlet".
Attacks
Protoform Abilities - Gives people the heebie jeebies.
HyJinx - Creates a string of bad luck in an opponent, such as clumsiness or their blaster breaking.
Vooduel - Slug creates miniature voodoo doll of opponent, opponent feels what the doll feels.
Urrcurse - Opponent surrounded by invisible curse, slug shots are reflected back doing damage to themself.
Blambaste - Makes opponent delusional, giving the illusion of a crushing loss - they give up.
Battles
Although not yet seen used in battle, the Hexlet is a very helpful Slug and most
Slingers
 have one. The Hexlet is able to act as a guidepost, guiding Slugs back to their owners home, likely by acting as a beacon for a Slug's natural homing instincts. Hexlets are empathic, able to influence the emotions of other Slugs. Additionally, they are mildly telepathic, able to project thoughts into the minds of other Slugs. Experienced Slugs are better able to block the effects of a Hexlet's mental powers. A Hexlet Slug is also in the theme song.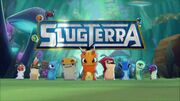 Appearances
Trivia
The Hexlet slug used to be called a Raast slug.
On the website, a Hexlet is seen on the Slug arsenal homepage and the passage leading from the Play Games to the Arsenal.
They are called Raast Slugs in the Slugisode "Our Friend the Slug"
Gallery

Slugs

Community content is available under
CC-BY-SA
unless otherwise noted.