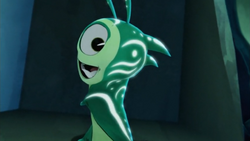 Guardian Slugs are ancient and powerful Slugs that have been specially trained by the Shadow Clan to energize the barriers that keep the Darkbane from entering SlugTerra.
Guardian Gates
Main article: Guardian Gate
Guardians Slugs energize the portal. When they are in their pedestals their element symbol appears above their head. For every element there's a Slug on a pedestal and once a Slug runs out of energy the symbol they represent will vanish from the portal.
List of Guardian Slugs
Trivia
Most slugs aspire to become guardians.
When slugs become guardians they gain new markings to show their new status.
Guardians can live for several years (centuries) making them the second oldest slugs after The Elementals. They're also the second most powerful slugs after the Elementals.
It only takes 4 elementals to power a gate, because they are the most powerful slugs
Gallery
Community content is available under
CC-BY-SA
unless otherwise noted.