AquaBeeks are blue, turquoise, and white Water element Slugs.  Its preferred habitats are sea caverns and coral reefs such as Undertow Cavern. AquaBeeks first appeared in "The World Beneath Our Feet Part 2". At velocity it has a similar appearance to a dolphin, with tentacles like an octopus. It's power type is a water and sonar.
A famous AquaBeek is Beeker, who belongs to Eli Shane and is a powerful slug.
A ghouled AquaBeek is called a Aquafreak.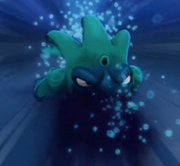 Attacks
Protoform Abilities - Can spout a small amount of water.
Seawee - Sonar blast, knocks back an opponent - underwater attack.
Inksting - Squirts blinding clouds of ink at opponent - underwater attack.
Aquajet - Squirts a jet of water like a firehose.
Cyclonator - Slug swims at the center of a spinning water cyclone.
Megamorph Abilities - Create a medium tidal wave effect. Can also shoot a water wave.
Aquaboost: "Aquabeak"+"Fandango" - TBD. It hasn't officially debuted in the series yet.
Defective Combos
Analysis
While one of the most useful Slugs to use underwater, the AquaBeek's moveset is otherwise fairly limited.  With half its moves being used solely underwater, the AquaBeek only has two moves to fall back on for duels outside its home environment.  While those two moves are at least not the same kind of move, granting it a direct attack and a multi-target move, it will be quite easy for an opponent Slinger to outmaneuver an AquaBeek on land.
Appearances
Trivia
The AquaBeek is one of the most useful Slug to have when underwater because an Aquabeek is one of the only Slugs that doesn't need a Torpedo Shell (Jellyish and Lariat are another).
Gallery

Slugs