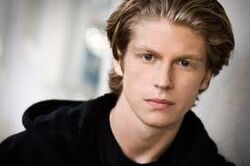 Andrew Francis is a Canadian voice actor, who's known for voicing Kord in the Canadian series, SlugTerra, and various other characters in the show.
Personal Life
Andrew Francis (born May 27, 1985) is an actor and voice artist from Vancouver, British Columbia. He has appeared in many television shows including Lamb Chop's Play Along, Poltergeist, Dark Angel, Twilight Zone, The L Word, Smallville and Kyle XY. He has also appeared in theatrical releases such as Knockaround Guys, Agent Cody Banks, Final Destination 3, and, more recently, The Invisible.
Andrew has also been voice acting since the age of 9, starring in over 20 animated series, including many anime series, such as: RoboCop: Alpha Commando, X-Men: Evolution, Johnny Test, Action Man, Dragon Booster, MegaMan NT Warrior, Monster Rancher, and Vision of Escaflowne.
Voices
Slugterra Roles
Other Notable Roles
Dragon Booster – Phistus
Iron Man: Armored Adventures - Rick Jones
Johnny Test – Gil
Max Steel - Maxwell "Max" McGrath, Xander, Fire Elementor, Air Elementor, Toxzon, Fishy
Ninjago: Masters of Spinjitzu - Morro/Shade
"Monster Rancher" - Genki
"My Little Pony: Friendship Is Magic" - Shining Armor
Voltron Force - Lance